HydroPeptide Redefining Serum: Ultra Sheer Clearing Treatment
30 ml
670,00

AED
Redefining Serum uses clinically proven active ingredients to help clarify troubled skin without irritating or over-drying skin. Gentle exfoliants and bacteria-blocking peptides combine to ensure healthy cell turnover and smoother, more even toned skin.
Clearing peptides combine with salicylic acid to help support clear, healthy skin, while sacred lily bulb extract works to balance skin. Hyaluronic acid deeply hydrates the skin without clogging pores, leading to smoother, softer, more even toned skin.
All skin types
CONTRAINDICATIONS: Do not use if pregnant, nursing, or have an aspirin allergy. Always use a high, broad spectrum sunscreen when using this product.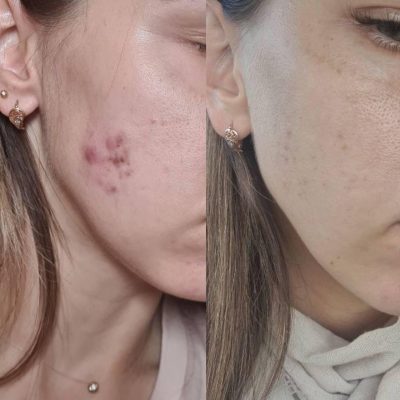 Patient, 28 years old, with acne of the 3rd degree.
During online examination: multiple inflammatory elements,post-acne spots
Treatment was prescribed:
1. Redefining Serum: Ultra Sheer Clearing Treatment
2. Washing with acidic pH
3. Moisturizing with olive extra
Helps reduce the look of acne
Leaves skin softer and more even toned
Reduces the appearance of inflammation
Acne-prone skin
Dull skin
Oily skin
Aging skin
Clearing Peptide
Works synergistically with Salicylic Acid to minimize the appearance of pores.
+1% Salicylic Acid | 2.5% Azelaic Acid
Gently encourages healthy cell turnover while combatting excess oil.
Sacred Lily Bulb Extract
Helps to inhibit excess oil and melanin production.
Anti-Redness Peptide
Helps to reduce irritation and the appearance of facial redness.
STEP 1
Apply a small amount Am & PM to a clean face and neck after toner.
STEP 2
Follow with appropriate moisturizer and SPF protection.