HydroPeptide Hydraflora Probotic essense
120 ml
355,00

AED
This soothing and toning essence uses pre- and pro-biotics to balance out the microflora on the skin's surface and give a lit-from-within glow.
A rich blend of botanical extracts packed with potent antioxidants brightens as well as protects skin from free radical damage. Coconut water and blue agave refine the look of pores and smooths texture.
All skin types.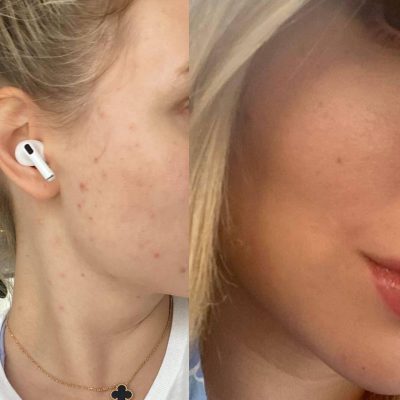 Patient, 30 years old, with acne of the 1rd degree, of the skin barrier.
During online examination: comedones .
Treatment was prescribed:
1. Hydraflora Probotic essense
2. Washing with acidic pH
3. Moisturizing with olive extract
Brightens the look of skin
Protects with pre and probiotics
Balances pH and tones
Dry, dehydrated skin
Dull skin
Rough, uneven skin
Coconut Water + Blue Agave + Cactus Flower
Natural astringent that helps to reduce the appearance of pores to give a smooth complexion.
Pre and Probiotics
These extracts help keep the microflora on the skin balanced to restore the skin's pH and help suppress water loss from your skin.
Brassica Concentrate
Antioxidant and phytonutrient extract blend of broccoli, cabbage, wasabi, and cauliflower protects the skin from free radical damage.
Actiphyte® Complex
A blend of Gotu Kola, Green Tea, and citrus extracts provide the appearance of brighter skin via a rich source of antioxidants.
Always start off small and add more if you need – with toners, a little goes a long way!
STEP 1
Soak a cotton pad or ball with Hydraflora and gently wipe it around your face from your T-zone outward.
STEP 2
Follow up with your favorite serum and moisturizer at night, and add an SPF if applying during the day.