HydroPeptide Purifying Cleanser: Pure, Clear & Clean
200 ml
300,00

AED
This purifying cleanser draws out impurities, promotes rapid correction of imperfections and addresses the signs of aging for clearer, brighter, more hydrated skin.
Safe for sensitive skin types, this cleanser includes calming chamomile extract to reduce redness and inflammation.
CONTRAINDICATIONS: Do not use if pregnant, nursing, or have an aspirin allergy. Always use a high, broad spectrum sunscreen when using this product.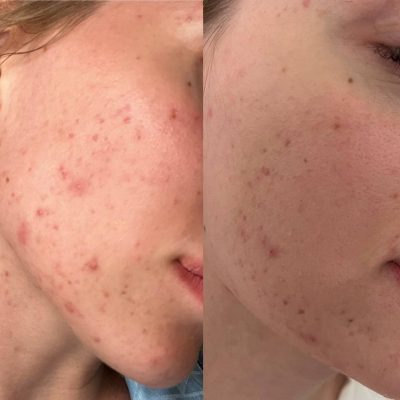 Patient, 26 years old, with acne, post acne
During online examination: oil skin, acne
Treatment was prescribed:
1. Purifying Cleanser: Pure, Clear & Clean
2. Tretinoin - 8 months
3. SPF cream
Low percentage of Salicylic Acid (0.5%) helps to combat excess oil, without irritating and drying the skin
Bentonite and Kaolin Clays balance oil and helps to draw impurities from the pores
Acneic, oily, congested, and aging skin
Granactive Acne Peptide
A peptide that is designed to combat the bacteria that cause acne.
Salicylic Acid
An exfoliant that gently encourages cell turnover while combatting excess oil.
Kaolin and Bentonine Clay
Natural clays that help balance oil while drawing out impurities.
Chamomile
Calming natural extract that helps to reduce irritation and inflammation.
Use twice daily for optimal results.
STEP 1
Apply a quarter size amount of cleanser to damp fingers.
STEP 2
Spread cleanser all over face and gently make circular movements focusing on areas of concern.
STEP 3
Once skin is throughly cleaned rinse face with water.