IMAGE skincare AGELESS TOTAL REPAIR CRÈME
56,7 g
520,00

AED
An age defying cream with retinol and glycolic blend work over night to repair and resurface the skin, and to diminishes the appearance of wrinkles and visibly firmer skin.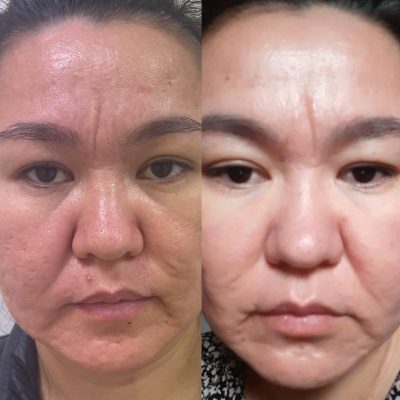 Patient, 43 years old, with deep wrinkles , hyper keratosis, Acne scars, Enlarged pores.
During online examination: oil skin with post acne .
Treatment was prescribed:
1 AGELESS TOTAL REPAIR CRÈME
2. Cleanser with acids
3. Serum with glycolic acids
All skin types, aging, oily/acne-prone, sun damaged skin.
Combats the appearance of signs of aging, including fine lines, wrinkles, dullness and uneven skin tone and texture
Blend of retinol and glycolic acid helps to improve the look of dullness, revealing smooth, healthy-looking skin
Formulated with encapsulated, time-released retinol for effective delivery
Hyaluronic acid helps to bind needed hydration to the skin, softening the appearance of fine lines and crepiness
Promotes the look of firmness, tone and elasticity
Apply liberally to cleansed skin for evening revitalization. This product is extremely exfoliating and must be used slowly to increase
skin health.
Encapsulated Retinol 0.1%: Stimulates collagen synthesis and helps even skin tone
Glycolic acid: AHA exfoliator, provides chemical exfoliation of dead skin cells and stimulates epidermal renewal
Hyaluronic acid: Powerful Hydrator
Vitamin E (Tocopherol): Potent antioxidant to prevent future damage
Soybean oil: Stimulates collagen synthesis
Shea Butter: Hydrate skin by creating a barrier that protects against transepidermal water loss
Licorice extract: Lightener